So I got this e-mail about something cool going on. I think it's such a great idea that I'm taking it upon myself to tell LJ about it.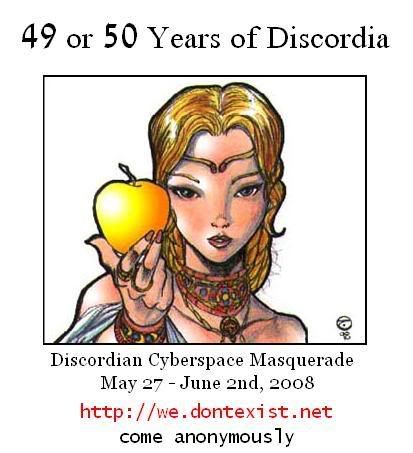 I hadn't even realized it was Discordia's 50th (or 49th) anniversary. This is cool 'cause we get to celebrate the 50 year mark for two years in a row. It's our Golden Apple anniversary. =)

I love the idea of an online party which brings together Discordians from all sections of the web. It's also cool that it's anonymous. It'll make communication really interesting. I hope to swap some of my ideas with other people's ideas, and maybe get a page or two written for the book PDF thing they're putting together.

Anyway, there's not a lot of time until the party starts, so I'm trying to pass the invite around as quickly as possible. If you have any ideas for where else we should advertise, please post! Or optimally, you should go there and get some buzz going.

PLEASE post to your blogs, facebook groups, forums, whatever, wherever Discordians hang out.



I'll see you guys at the party! Hail Eris and Hail Yes!